Are you looking for a new tenant or roommate? You can create your advert for free on Kamernet and receive replies from tenants immediately. This is how Kamernet works for landlords and roommates.
Create a listing in four simple steps
The fields with an asterisk are required so we can inform the tenants and make sure there is the perfect match.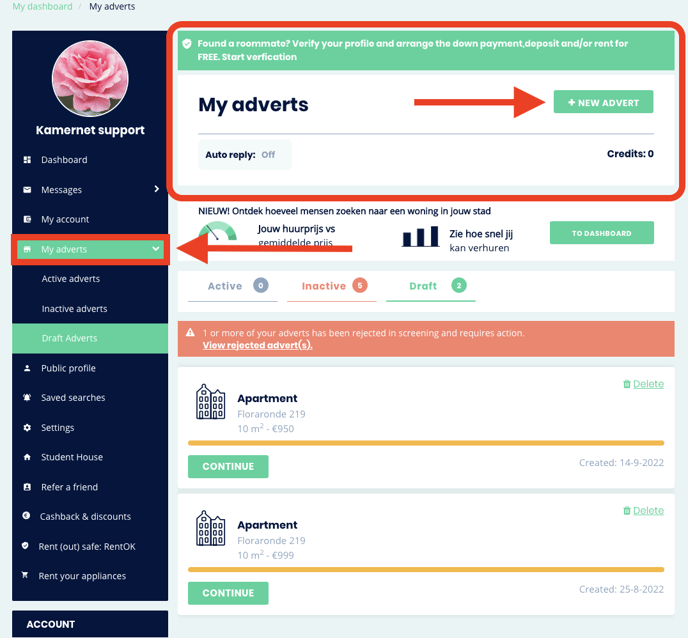 Step 1: Address & rental price
Fill out whether your property is a room, a studio or an apartment. Also fill out the city your property is located and what the rental price and square footage (in square meters) is.
If you fill in the postal code and house number, our system will recognise the street name and city. Your house number is not visible for other users.
Once you completed the first step, we will save your advert as a draft. That way, you can always complete it later on.
However, it will not be placed online if you only completed the first step.
Step 2: Duration & description
Here you'll fill out the length of the lease. You can also add the extra costs for utilities.
You can provide more information in the title and description of the listing, such as the amount of roommates, the facilities and the surroundings of the city.
You can also fill out what type of landlord you are (think: owner of the property or someone looking for an additional roommate).
Step 3: Photos and details
In this phase you can add up to 10 photos of the property.
You can also add more information about smoking, pets, internet, the roommates and the shared facilities.
Here you also create a tenant profile by specifying their age, whether they work or not and how many other tenants are in the property.
Step 4: Confirm advert
In this final fourth step, you can preview your advert and you can confirm it by clicking on the button at the left bottom corner.
After you confirm
All listings need to be screened first, before they are placed on our website. Our screening team approves ads daily, and it usually takes up to 2 hours before your advert is approved.
However, if your listing isn't online after those 2 hours, be sure to contact support so we can have a look.
You will receive a confirmation email once we received your ad and once we approve your listing. You can always view and edit your ad on 'My Adverts'.
If you want to see how your listing looks once you've placed it, you can click on the advert (not on the buttons below it).
If you want to edit your listing (you can do this even if it is not approved yet), you can click on the green pencil below your ad.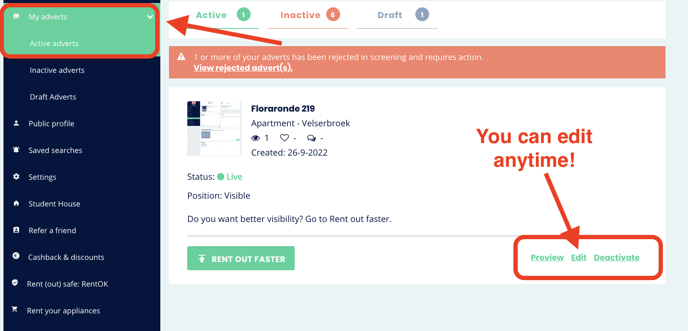 You will go through the four steps again.
Tip: make sure you fill in all the details of the advert to make sure that it is matched to the right tenants.