Deactivate your ad
Have you found a new tenant or roommate or have you received enough replies on your advertisement? Deactivate your ad to make sure that you don't receive any new replies of tenants.
You can deactivate your advert via 'My Adverts' :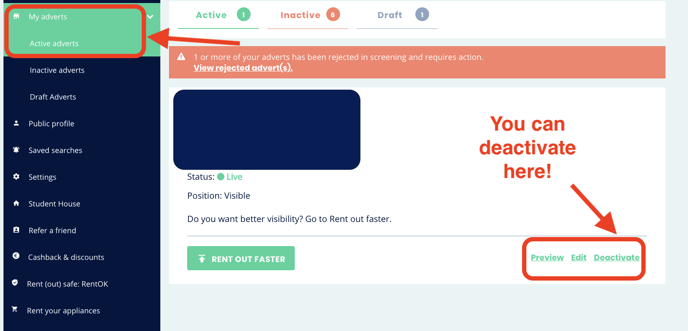 You will see a pop up where you can fill in the reason of deactivating your listing. You can also leave your feedback about Kamernet here so we can improve our services.
If you are deactivating your listing it is not removed and deleted completely.
You can not receive new replies and the ad is not visible any longer, but the listing details are saved in your account.
Delete your ad
Do you want to completely remove the advert and make sure nothing is saved?
You can delete the advert from our platform by using the button below.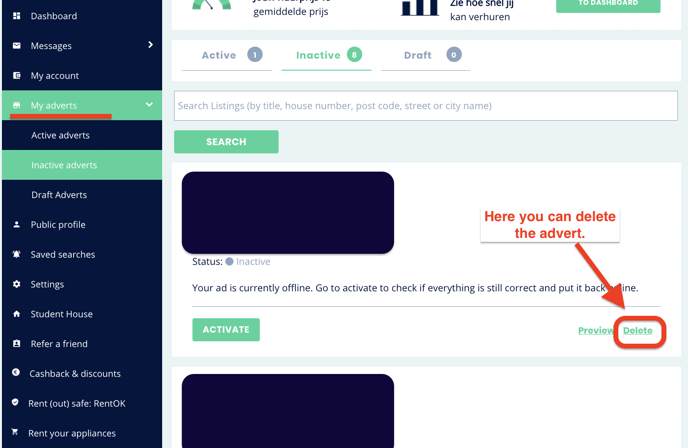 You can only do this after you've deactivated the listing.
The ad will be completely removed and you are not able to reactivate it again.
If you go to 'My Inactive Adverts' you can find all your saved, inactive adverts. Once the property is available again, you can easily activate the advert again and receive new replies. You don't have to fill out all the details again.
If you want to activate an inactive advert, you can click on the 'Activate' button below the advert.
You will immediately go to the steps to edit and place your advert again. You will not have to fill out all the information, just make sure that all the information is correct (i.e. the new availability date and rental price).
If you have checked all the steps, make sure you confirm your listing in the final step.
Your ad will be pushed to screening so we can approve it. You will receive a confirmation email once we received and once we approved the advertisement.